There are many misconceptions associated with placing a baby for adoption. Here we dispell the top myths for expectant parents considering adoption.
Myth

A loving and caring person wouldn't place her child for adoption.

Fact

A mother who unselfishly creates an adoption plan is placing her child's best interests above her own. Adoption does not mean you don't love your child with all your heart. In fact, it often means you love your child so much that you're willing to sacrifice your own emotions for the good of the baby.

Myth

An adoptive family won't be able to love my baby as much as I can.

Fact

Because of their great desire for a child, many adoptive families have put a lot of effort into becoming parents and faced struggles and heartache along the way. Adoptive parents have a true, unconditional love for and devotion to a child they adopt because they understand what a blessing it is to have a child in their lives. Since adoptive parents make the deliberate choice to parent, they take the responsibility of parenting very seriously.

Myth

Adoption is a selfish and irresponsible choice.

Fact

Choosing adoption for your child is one of the most loving and unselfish decisions you could make. Planning for your child's future is your responsibility. No part of looking into adoption is irresponsible or selfish.

Myth

My child will feel abandoned or angry with me for placing him or her for adoption.

Fact

Your child will know you loved him or her enough to put aside your own feelings so he or she could have the best possible life. Your child will grow up well cared for, enjoying many wonderful experiences and opportunities, and being loved by a family who actively sought to bring him or her into their lives. Your child will know you made a huge sacrifice to make all of that possible.

Myth

A baby will improve my relationship with my boyfriend or husband.

Fact

Unfortunately, a baby cannot ensure your relationship will improve. An unplanned pregnancy may even add more strain to a relationship rather than mend it. Raising a baby together does not in any way guarantee your relationship problems will be resolved.

Myth

My family and friends will help me raise this baby.

Fact

No matter how much your family and friends offer to help, the baby is ultimately your responsibility. You are the one responsible for his or her health, financial and material needs, schooling, and more. Parenting is a 24-hour job, and while having occasional help is wonderful, it won't remove the pressure and responsibility of parenting.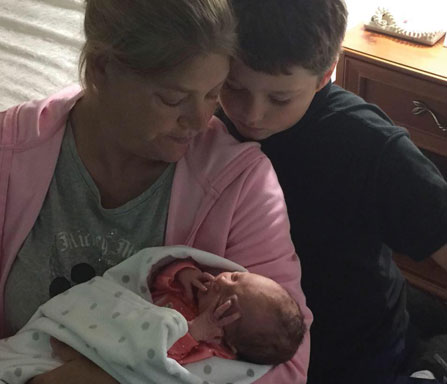 "Wanting your child to have more than you can offer is the biggest act of love any human could do..."
Read Heather's Story »